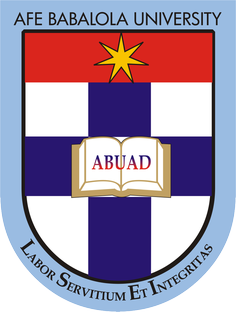 ORGANISATION: Afe Babalola University
STATE: Ekiti State
SECTOR: Education
Afe Babalola University (ABUAD) is a private university located in Ado-Ekiti, Ekiti State, Nigeria. It was founded by a lawyer and philanthropist, Afe Babalola, in 2009. Afe Babalola University offers academic programs in six Colleges: Sciences, Law, Engineering, Social and Management Sciences, Medicine and Health Sciences, and Postgraduate Studies. The Engineering College, built on three and half acres of land and equipped with sophisticated state-of-the-art equipment from Europe and the Americas, is reputed to be one of the largest in Africa. The college was inaugurated by former President Goodluck Jonathan.
The university has one main campus which is located in Ado-Ekiti, Ekiti State, Nigeria. The campus is situated in the hilly part of town directly opposite the Federal Polytechnic, Ado-Ekiti. The campuses houses 5 undergraduate colleges, a post graduate school, conference halls, a teaching hospital for medical students, student and staff accommodation, sporting facility and other auxiliary services such as cafeteria for staff and students, a laundry, a bakery and a water processing plant.
Afe Babalola University holds a reputation for being one of the few Nigerian universities to begin academic work in the campus permanent site. However, due to the requirement by the National University Commission that the school must possess a functioning teaching hospital, a memorandum of understanding was signed with the Nigerian Federal Government to make use of the Federal Medical Center (FMC) Ido-Ekiti, Ekiti State as its teaching hospital for a period of ten years beginning from October 2014. But four years later, in 2018, the Afe Babalola Teaching Hospital was established and it has helped in reducing medical tourism in Ekiti State.
The Afe Babalola Multi Systems Hospital (AMSH)
Located in Ado-Ekiti the capital of Ekiti state, AMSH is a 400-bed teaching hospital affiliated to Afe Babalola University, one of Nigeria's foremost private tertiary educational institutions. The hospital was established in 2018 to serve as a centre of excellence in health care delivery and education, as well as bridge the critical gap in health care investment in the country. Its establishment was supported by the African Development Bank (AfDB) with a loan of $40million (N14.6billion), the first non-sovereign (non-government) loan by the continental bank in Nigeria.
PharmAccess Foundation, an international non-profit organization committed to improving access to quality health care, is supporting Afe Babalola University Multi-System Hospital to implement the internationally accredited SafeCare Standards. SafeCare holistic methodology empowers health providers to continuously monitor and improve service delivery through innovations that promote transparency and benchmarks quality. Some of the specialty departments include accident and emergency (A&E), surgery, internal medicine, paediatrics, obstretrics and gynaecology, community medicine, physiotherapy and dentistry among others. These departments provide day to day inpatient and outpatient care to clients, as well as opportunity for hands-on learning for medical students of Afe Babalola University.
The medical diagnostic centre is top quality. Managed by Abbot Laboratory, the centre is equipped with CT, MRI, X-Ray and Ultrasound scanners. The centre performs examinations such as fluoroscopy, bone densitometer, bronchoscopy, gastroscopy, echocardiography, Arthroscopy, endoscopy and colonoscopy among others. The cardiac centre, managed by Tristate Healthcare system have conducted over 50 heart surgeries for all age groups.
According to Professor Kamar Adeleke, the Chief Executive Officer of Tristate, the cardiac centre "have performed both open-heart and closed-heart surgeries, and for different categories of patients. We have a modular theatre with all the required equipment. It's a whole package." The cardiac centre also has two mobile dialysis machines to support patients with both cardiac and kidney complications. The hospital's kidney centre is another trademark of quality. It is installed with 16 new dialysis machines to support its operation. AMSH has a helipad for evacuation of patients to and from the hospital by helicopters if the need arises. To ensure comfort of both patients and their relatives, the hospital has an in house 50-room hotel for patients' relatives to stay while the patients are receiving treatment, and for patients to recuperate fully after being discharged before going home.
You will see that Afe Babalola University has used its own resources to bridge the gap in education and welfare. It has also done a lot in the fight against COVID-19 pandemic and has helped to bolster confidence in the Nigerian healthcare system with investment and scrutiny that would have been lost if government was providing the same services.